Volvo IntelliSafe Technology
IntelliSafe is a suite of Volvo brand exclusive safety features that heightens the security of Volvo drivers, their passengers, and even pedestrians. By including IntelliSafe technology in these luxury vehicles, Volvo hopes to decrease the amount of vehicle-related accidents, injuries, and deaths. Drivers in the Boston area are awarded complete comfort and peace of mind knowing they're protected by Volvo IntelliSafe technology.
Assistive Volvo IntelliSafe Technology
With Boston area streets becoming busier as every year passes by, additional safety features are absolutely necessary for optimal driver and passenger security. Be more aware of your surroundings and have others be more aware of your presence with Volvo IntelliSafe technology.
Adaptive Cruise Control sets a distance between your vehicle and the car in front of you for more relaxed driving.
The 360º Camera gives the driver a complete view of the vehicle's exterior, which greatly assists when parking in a tight spot on the Boston streets.
Active High Beam automatically switches between high and low beams at night when it senses other vehicles, cyclists, and pedestrians.
With Park Assist Pilot, let your Volvo take the wheel. This will park the vehicle for you and tell you when to apply the brakes.
Blind spot information makes switching lanes a breeze by alerting the driver of any vehicles they cannot see in the side mirror.
Lane Keeping Aid can sense if the driver drifts out of their lane and can even guide them back into the proper lane.
Volvo IntelliSafe City Safety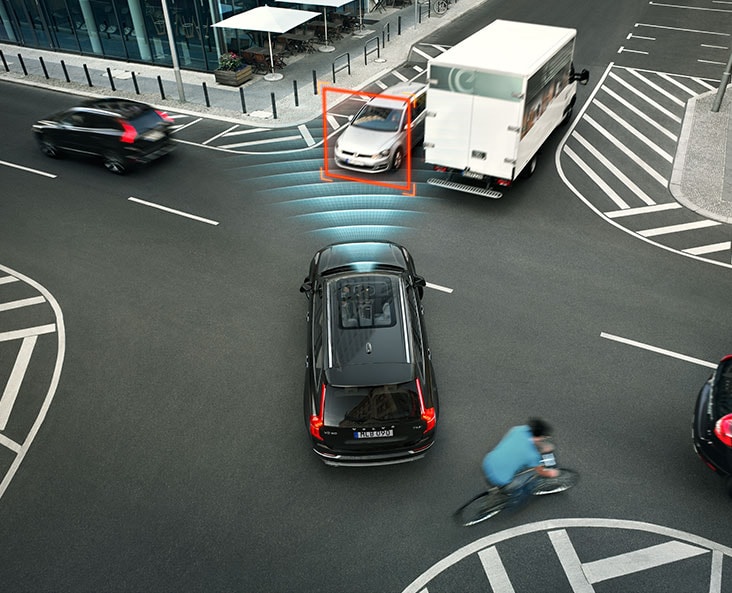 Besides Boston traffic being incredibly frustrating, it can also be extremely hazardous to those inside and out of a vehicle. The panel of City Safety features increases driver awareness to avoid an accident in a high-volume area.
Pedestrian detection will alert the driver, and even brake, if it senses people walking in front of the vehicle.
Cyclist protection warns the driver with a visible alert if a cyclist swerves in front of the vehicle.
Forward Collision Warning pre-charges the vehicle's brakes if it senses a possible accident within 500 feet ahead.
Other Volvo IntelliSafe Features
By enhancing the most basic safety features in Volvo vehicles, driver and passenger safety is better than ever. Essential safety features become your most important protectors with Volvo IntelliSafe.
Volvo advanced seatbelt technology automatically tightens immediately after a collision.
A stronger construction holds up better in the case of an accident by dispersing the energy to the steel safety cages.
Visit 128 Volvo to test-drive a vehicle equipped with Volvo IntelliSafe technology. Drivers in and around the Boston, MA area can contact us through our website or by phone at (877) 462-2050 for more information.